Concrete pavers offer an attractive alternative to poured concrete and other surfaces.  We install patios, walkways, and driveways using Belgard and Pavestone brand interlocking pavers.  All of our paver projects are installed following guidelines established by the Interlocking Concrete Paver Institute.  Jeff Godbold is an ICPI trained paver installer with 20 years experience.  There are many different styles, sizes, and colors of pavers to choose from.
The basic components of a paver installation include:
Compacted soil sub-grade
Geotextile fabric installation
Compacted aggregate base
Bedding sand
Concrete pavers with sand filled joints
Edge restraint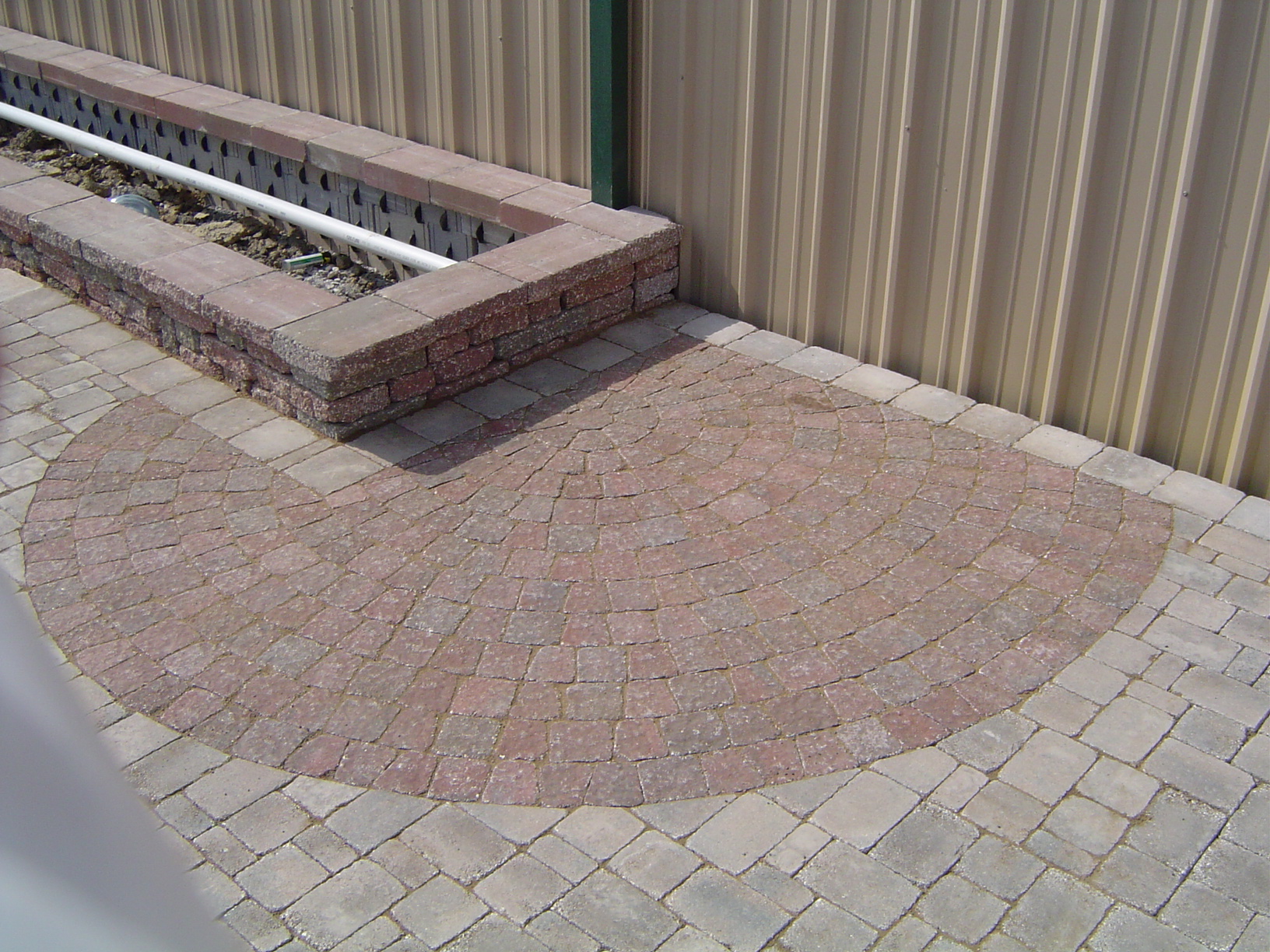 A natural choice for patios and walkways is flagstone. Flagstone is a natural product that usually comes in thicknesses ranging from ½" inch to 2½" inches. Flagstone is irregularly shaped and available in many different colors including: tan, gray, white, red, and brown. There are many different methods of installing flagstone, including:
Loose set on a compacted base using mulch or small plants in the joints

Loose set on a compacted base using joint stabilizing sand

Loose set in turf or landscape (for individual stepping stones)

Hard set with mortar on a concrete base
All of the listed installation methods will provide many years of use and enjoyment.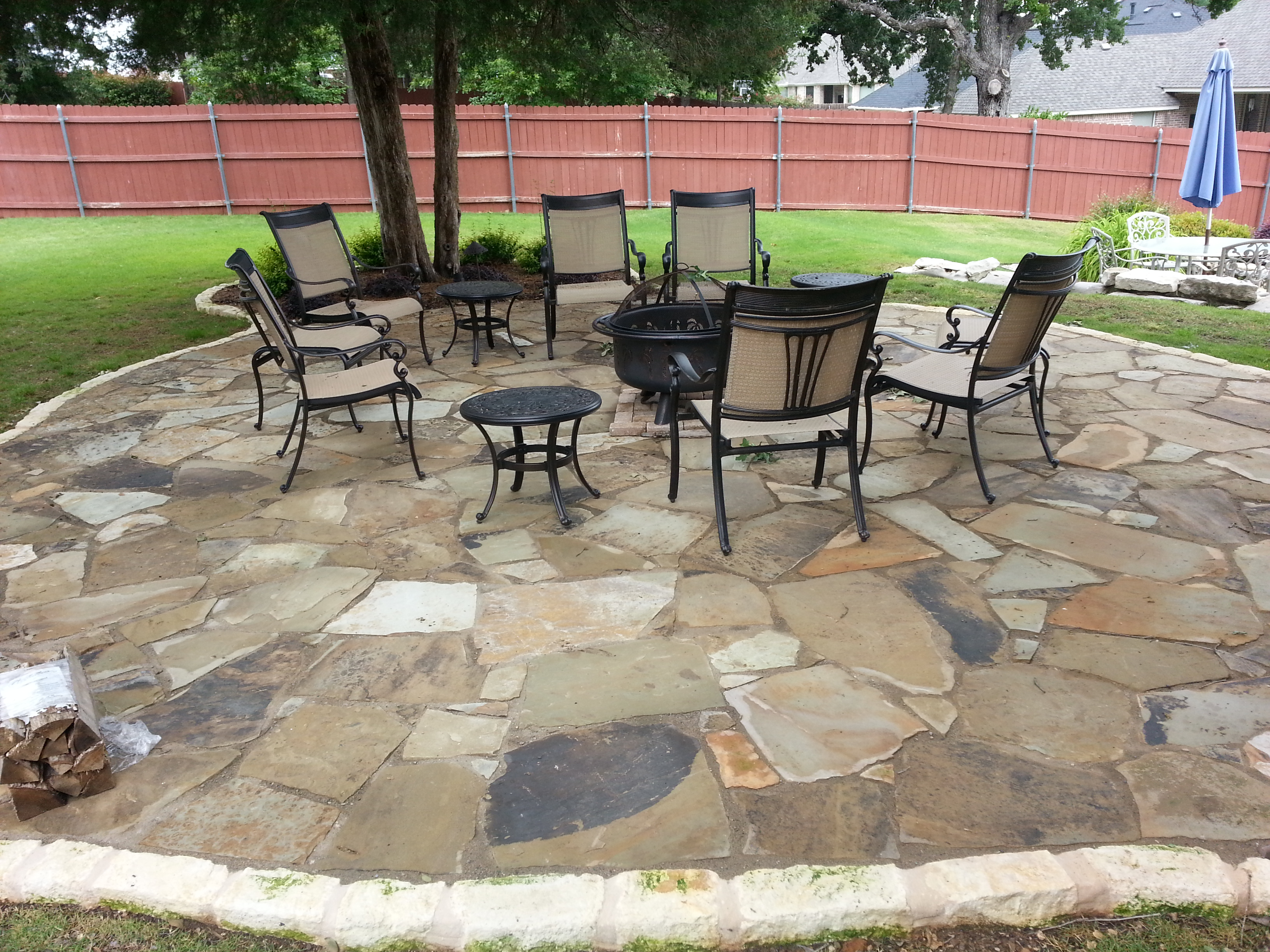 We install retaining walls made from interlocking pavers or natural stone.  We can help you choose the type of wall that best fits your needs.  Some of the factors in deciding what type of wall to install include:  location of the wall, height of the wall, and appearance.  Some information on each type of wall:
We use Belgard or Pavestone wall stones for our interlocking paver walls. All of these walls are installed on a compacted base. There are many styles, sizes and colors of wall stones to choose from.
Our natural stone walls are made of chopped stone that is held together with mortar. These walls are installed on a re-bar enforced cement foundation. Some of the common stones that we use include Austin stone, sandstone, and limestone.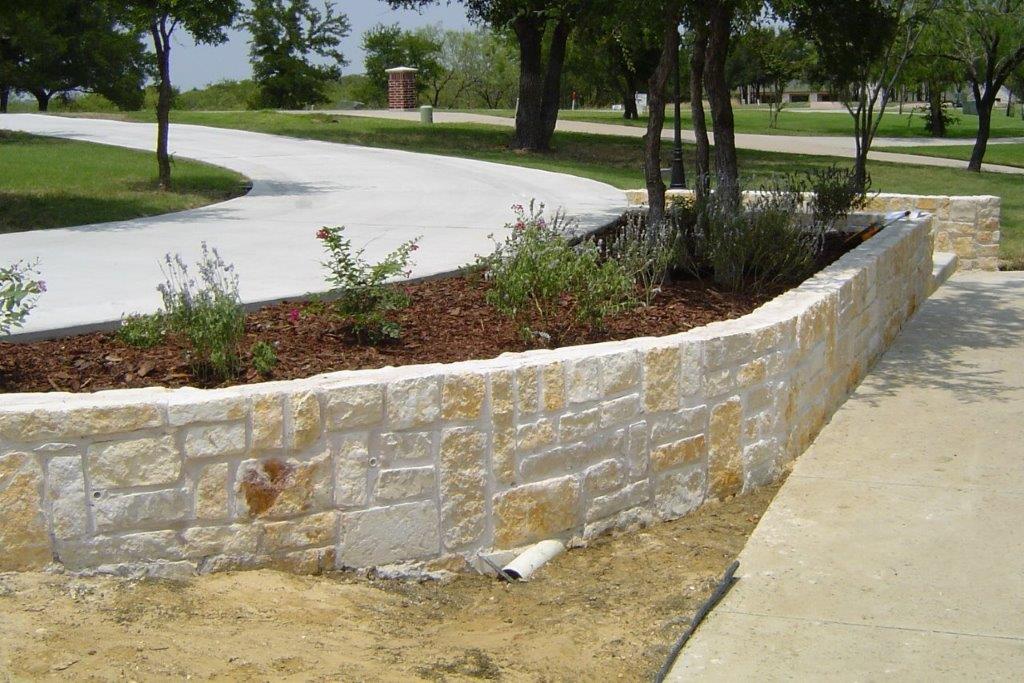 We use many types of edging in our landscapes, including steel edging, composite edging (benda board), and chopped stone edging.  Each type of edging has unique characteristics and uses.  Information on each type:
Steel edging is four-inches tall and comes in lengths of 10 and 16 feet.  It is normally green in color.
Benda board edging is made from 100% recycled plastic and is available in three sizes: 1" x 4", 2" x 4", and 1" x 6".  It is brown in color and comes in lengths of 20 feet.
Chopped stone edging is made of natural stone.  The stones are set in mortar on a cement base.  The edging is usually four inches thick and 4-6" tall.